There is a now company where you may take benefit of the experience and knowledge of the Professional staff each of who can produce extra solutions in Customs and Warehousing services and which may meet all kinds of warehousing requirements with its infra structure.
CAS Warehouse A.Ş. started its activities in the second half of 2005 in Organized Industrial Area 5000 m2 land. Prior to establishment, we negotiated over the transportation and customs issues of Bursa industry and we set forth after investigating what kind of solutions we may find  to those problems.
In 2010 our Bursa Customs Warehouse was extended to 6000 m2 and inside it our cold storage depot where we may be able to store 1300 m2 frozen fresh food and all kinds of good between -25 to +50 °C came into service. Furthermore, our logistic warehouse was put into service on an area of 2500 m2.
Our Gemlik Customs Warehouse was extended to 4000 m2. Moreover, a logistic warehouse with an area of 1000 m2 is also available there.
Bursa and Gemlik Warehouses and Logistic Storage areas increased our total storage area to 11000 m2. Thus, a professional storage system which has the highest m2 in its field in Bursa and neigbourhood was achieved.
Together with our experienced staff, system, working personnel and equipments, we believed that we will overcome this business successfully. Today, we proved how correct our such decisions were with our active studies.
It is proven that CAS Warehouse A.Ş. is a brand in warehouse operating. We are conscious of continuing our vision we have undertaken and the point we have achieved in the sector. Hygienic rules are highly regarded in our warehouse which is equipped with advanced loading, unloading, carriage and stowing vehicles and all measures are taken to prevent any damage on the goods during storage.
From the time the goods are taken to our ware hose, the goods are covered by 100% insurance against all risks including loading and unloading. A camera system and 24-hour security system conducted by a professional team and fire alarm systems are available. In our warehouse, services such as storing the goods in free circulation, storing of the goods not in reed circulation, storing of the goods which were delivered to order and  an overall handling are rendered.
In Cas Warehouse A.Ş., transactions such as customs registration and follow-up  transactions for ( DDU ) delivered goods painstakingly with the support of Sönmez Bustaş A.Ş. & Lojistik A.Ş.
Cas Warehouse A.Ş. proceeds in its way being the indicative, determinant leader company in its sector.
What is a Customs Warehouse ?
A Customs Warehouse is a place where the materials under customs surveillance or where permitted the export materials are stored. 

How many types of Customs Warehouses are available ?
Customs Warehouses are generally divided into two as general and private. Due to the natures in practices, general warehouses have A, B and F types and private warehouses have C, D and E types.
Type A Warehouse: It is a general warehouse which the operator keeps the inventory records and is liable to pay the customs duties in case of any deficiencies in the materials  stored in the warehouse.
Type B Warehouse: It is a general warehouse where the beneficiary / user mentioned in Article 97 of Customs Law is liable for the materials stored in the warehouse and the person issuing the warehouse declaration is the user. The liability of the warehouse operator is restricted. The warehouse operator solely rents the warehouse. The declaration and documents serve as a basis for customs control since the warehouse inventory records are not kept. 
Type C Warehouse: It is a private warehouse, the operator and user of which is the same person and he who is responsible for the materials stored in the warehouse.
Type D Warehouse:  It is a private warehouse where the user and operator is the same person and third paragraph of article 104 of Customs Law is applicable. Since the taxes are calculated based on the value of the goods as of the date when the goods were stored in the warehouse, the materials stored in her embay be released for free circulation with simplified procedure.
Type E Warehouse: It is a private warehouse where the operator and the user is the same and where the storage house of the permit holder is considered as a warehouse pursuant to article 93 of the Customs Law or where the warehouse regime provisions are applicable even though it is not a place of storage.
Type F Warehouse:  It is a general warehouse which is operated by the Customs Authorities.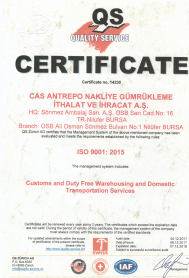 FW: ISO 9001:2015